Staff Spotlight: Sophia Ahmed, PNP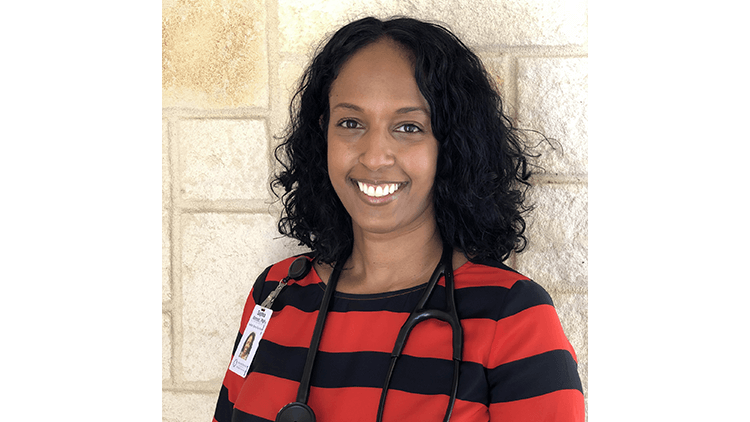 Pediatricians have a unique position in the medical field. Being able to build a relationship with a child and their parents throughout that child's most crucial developmental years can be an incredible experience. For Sophia Ahmed, PNP, that's something she looks forward to with every new patient she sees at HSNT's Wylie Children's Medical Clinic (WCMC).
"In researching [HSNT] and what it's all about just made me really want to pursue the position even more," Sophia says. "Because I really believe in what the mission is and the communities that these types of centers support and are a resource too. Underprivileged, underserved communities…I didn't necessarily grow up like that, but I've always had a heart for that community. My parents are originally from Ethiopia, so that's probably part of it, too."
Since joining the Health Services of North Texas team in December 2019, Sophia has seen all types of patients and families from a wide variety of races, religions, ethnicities, and more, and that's something she likes about working in the area. For her, the diversity of families she sees coming into the center is proof that no matter if a child is insured or uninsured, places like Wylie Children's Medical Clinic are needed.
"There are a lot of children that do have insurance, but there's a lot that don't, and just how much of a resource we can be, I'm just amazed at that. I had never heard of something like HSNT, with the quality of care we can provide for such a low cost. I had never heard of clinics like that in the past."
Sophia remembers speaking with one patients' mother about this. The mother had private insurance for years before losing her job and her coverage. When she started taking her child to WCMC, she was pleasantly surprised at the care her child was getting.
"She told me that, 'I know that most people who come here are uninsured and stuff, but I want you to know that the care you provided is outstanding'," Sophia says. "It wasn't anything to me that seemed extraordinary, you know, but she was amazed at the time and effort I put in."
Despite being with HSNT for only six months, Sophia has already started to see the life-changing power of a provider/patient relationship.
"There were two teenagers, 14 and 17, and they both were overweight and a lot of problems happening because of their weight. I had a heart-to-heart talk with them about 'this could be you, this could be next' if we don't make these changes. I saw both of them recently, and they've lost weight, but one, in particular, has gained a lot of confidence. It wasn't just about the weight – for her, it was about taking accountability for their health. And in a way that was empowering to her, that she was taking control of her life, not because I was telling her, or her parents were telling her."
Sophia sees that as the most rewarding part of being a part of the HSNT team, and she looks forward to seeing you and your child at Wylie Children's Medical Clinic in the future.