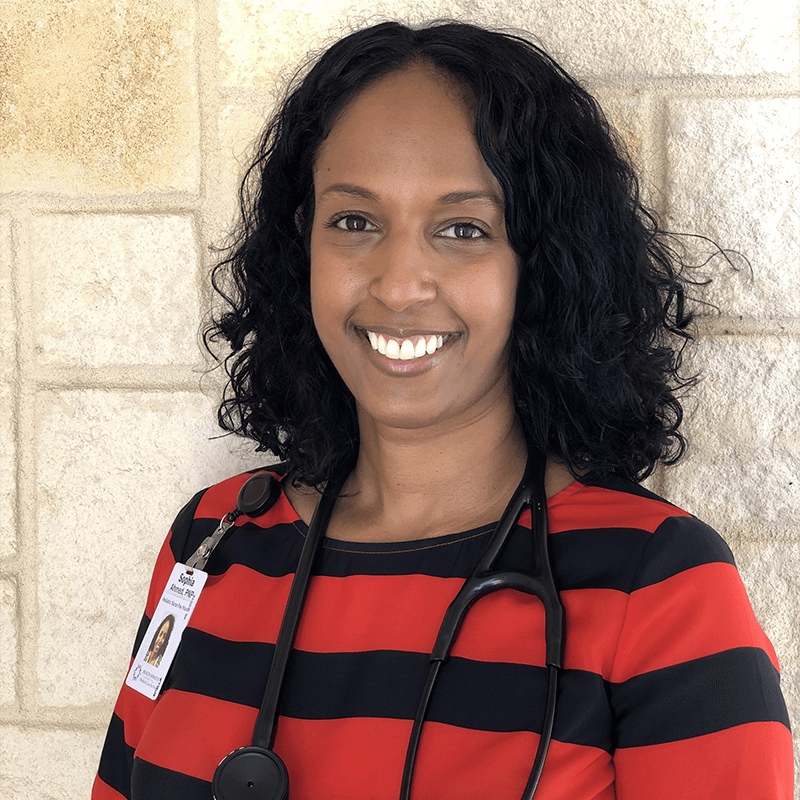 Pediatric nurse practitioner Sophia Ahmed believes that creating a trusting relationship with children and their caregivers from the first time they meet is very important. Sophia really enjoys creating positive medical experiences with each patient she has at Health Services of North Texas. She started her work experience here in 2019, and Sophia has already seen the life-changing power of a dedicated provider/patient relationship.
Reviews
"Staff was very friendly and helpful! Sophia Ahmed, PNP, is very sweet and was very thorough in explaining my son's vaccinations and addressing any concerns I had"
F. C
Office Visit
"I just wanted to say Mrs . Sophia Ahmed, PNP, did a amazing job with my daughter. This was our first time visit at the clinic and I'm soo glad my daughter like the nurses and her doctor . Thank y'all for everything ."
G. L
Office Visit
"loved her! super nice and easy to talk to. my sons 2 months old and the first 2 months were had to find a doctor I liked for him, but she's definitely great. Will be continuing to come here."
E. C
Office Visit
"Dr. Ahmed made our experience great. One nurse on staff was very unfriendly and not very patient or friendly with my grandsons. There was a confusion between her and another nurse where apparently The nurse I'm referring to did not administer the test she was supposed to give to my grandsons when the second nurse came into the room she asked it the test were done and I stated they were not. This nurse should not be employed at a "Children's" medical clinic. Nurses should exhibit a nurturing and caring demeanor with a good attitude."
T. S
Office Visit
"Ms.Ahmed was amazing with my daughter! This was the first time having her as our practitioner; as our normal doctor is out of the office, and we had an awesome experience! She even took the time to explain the growth chart and to show my daughter (who hates coming to the doctor) all the tools she would be using to look in her mouth,eyes, and ears. Great job!"
W. S
Office Visit
Related Post